REDWOOD CITY, CA – May 4, 2016 – Aerial technology company EHang Holdings Limited today announced a new collaboration with Lung Biotechnology PBC to develop and purchase up to 1,000 units of an evolved version of the 184, the world's first autonomous drone for humans, to automate organ transplant delivery. The two companies have agreed to work together over the course of the next fifteen years to optimize the 184 for organ deliveries, a program which they are calling the Manufactured Organ Transport Helicopter (MOTH) system. The collaboration stands to revolutionize the way organs are transported in the U.S., with the potential to save tens of thousands of lives.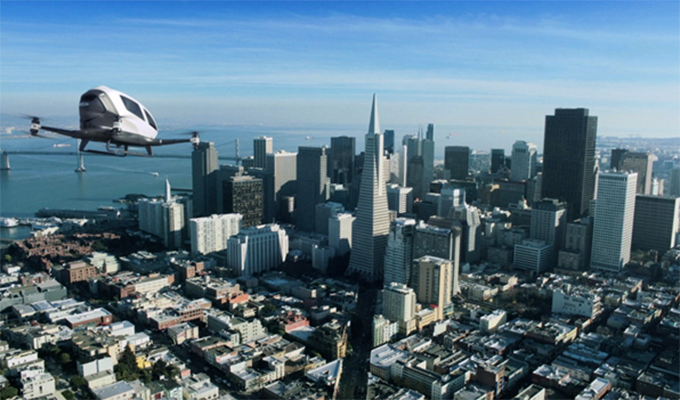 Lung Biotechnology specializes in manufacturing lungs and other organs for transplant using a variety of technologies, including pig-to-human xenotransplantation, as well as regenerating them from stem cells. It plans to station the MOTH rotorcrafts outside of its organ manufacturing facilities, and use preprogrammed flight plans to hospitals and re-charging pads within the MOTH radius so that the manufactured organs can be delivered within their post-production window of viability. This huge shift in organ production and delivery has the potential to save tens of thousands of lives. Currently, organ transplants are limited by the number of brain-dead donors, which results in thousands of deaths on organ transplant waiting lists each year. In the case of lung transplants, only about 2,000 lung procedures are performed annually, whereas over 200,000 people in the U.S. die of end-stage lung disease each year. The prospect of manufactured lungs could eliminate this numerical limit, and delivering them autonomously via the all-electric MOTH technology will save the healthcare system many millions of dollars with a dramatically reduced carbon footprint. MOTH purchases by Lung Biotechnology will be contingent upon successful development and U.S. Federal Aviation Administration approval of the MOTH rotorcraft, as well as approval by the U.S. Food and Drug Administration of Lung Biotechnology's xenotransplantation organ products.
"The well-known locations of transplant hospitals and future organ manufacturing facilities makes the EHang technology ideal for Highway-In-The-Sky (HITS) and Low-Level IFR Route (LLIR) programs," said Martine Rothblatt, Ph.D., Chairman and CEO of Lung Biotechnology. "We anticipate delivering hundreds of organs a day, which means that the MOTH system will help save not only tens of thousands of lives, but also many millions of gallons of aviation transport gasoline annually."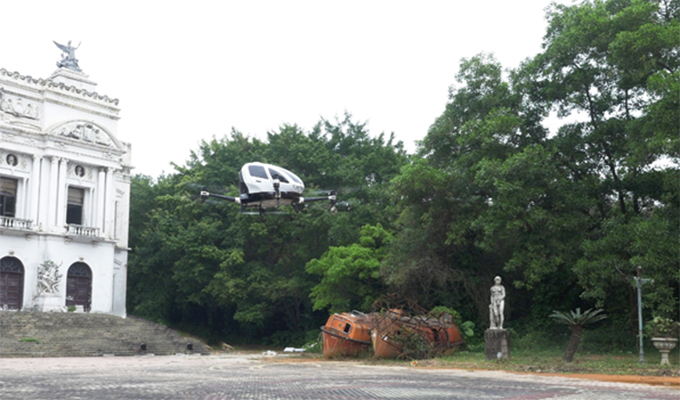 The 184, which is an autonomous drone capable of carrying a passenger more than 10 miles through the air at speeds up to 65 miles per hour simply by entering a destination into its accompanying smartphone app, is perfected suited for a variety of medical emergency transport. After several years of development, EHang unveiled the world's first autonomous aerial vehicle at CES 2016 to great acclaim.
"This is exactly the kind of global impact we envisioned when building the 184," explained Huazhi Hu, CEO of EHang. "Partnering with Martine and Lung Biotechnology is an incredible opportunity to bring the 184 to the emergency medical space, and specifically help to revolutionize the organ delivery system in the U.S. It's also representative of our broader dedication to making the EHang 184 and its commercial drones readily available to a number of different industries today."
About Lung Biotechnology PBC
Lung Biotechnology is a public benefit corporation focused on the development and commercialization of innovative products to enhance organ transplantation. The company is advancing regenerative medicine, xenogenetic and 3D printing technologies for organ manufacturing, as well as operating the first center in the United States for enabling unusable human donor lungs to be rendered transplantable. Lung Biotechnology generates $700 million a year from the sales of pharmaceuticals for pulmonary arterial hypertension, a frequent cause of lung transplantation.
About EHang
EHang is a global leading aerial technology company with headquarter in Guangzhou, branch offices in California, Duesseldorf, Beijing and Shanghai. EHang's mission is to help shape the way people connect with the sky. EHang makes the world's most easily-flown UAV, the GHOSTDRONE 2.0, which uses proprietary tilt control and the EHang Play app to make drone flight fun and accessible for the masses. EHang's GHOSTDRONE products have been sold globally, opening the skies to both new and seasoned fliers around the world. In January 2016, the company set its ambitions one step further and launched the EHang 184 Autonomous Aerial Vehicle (AAV), the first vehicle ever to offer autonomous human flight over short-to-medium distances. With a 300-person development and operation team led by seasoned executives from 21Vianet, Microsoft and Lenovo, EHang has established itself as a leader in the competitive global drone market and is on the fast track to mass-market success. Visit http://www.ehang.com for more information.