SAN FRANCISCO, Aug. 24, 2015 -- The global leading civil Unmanned Aerial Vehicle (UAV) company EHANG announced today that it has raised $42 million in series B financing. Led by GP Capital, and with participation from GGV Capital, ZhenFund, Lebox Capital, OFC and PreAngel, the move drives the valuation of the Chinese drone startup 100 times higher than 16 months ago when it was established.

Meanwhile, EHANG is also announcing the appointment of four senior executives with experience at global 500 and public hi-tech companies including 21Vianet, Lenovo and Microsoft. Shang-Wen Hsiao, the former President and CFO of 21Vianet, joins EHANG as CFO and co-founder, Wei Qi, the former Vice President of Lenovo Group, takes the role of Senior Vice President of Operations and co-founder, Yijun Wang, the former Sales Director of Corporate and Channel Department of Microsoft China, assumes the office of EHANG Vice President of Sales and Richard Liu, the former Vice President of Finance of 21Vianet, will serve as EHANG's Vice President of Finance.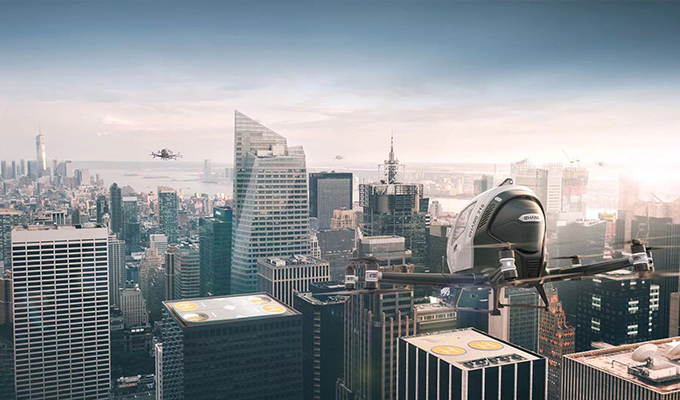 After Series A funding raised $10 million late last year, these positive developments are a new milestone and will help take the company to the next stage of growth. During the past eight months, EHANG has grown quickly in the highly competitive consumer drone market as a pioneering app-controlled smart drone provider, breaking the overseas crowd funding record for Chinese technology programs with its flagship product, Ghost drone, the recognized drone of choice for users from more than 70 countries across the world.
The funds from this Series B financing will be used to further facilitate the product and business development of EHANG in the global consumer and commercial UAV market, accelerate talent recruitment, and build a UAV ecosystem based on its innovated smart app-controlled experience to map the future of the intelligent aerial mobile platform.
"We are thrilled to receive the continuous support and recognition of our products and value from so many influential investors, especially in the current tough financial environment," said Huazhi Hu, founder and CEO of EHANG. "The four senior executives from global 500 and public hi-tech companies also enable us to be a leading player in the UAV industry."
The next stage of EHANG's development will see the company continue to advocate user friendliness and smarter control, and the quick application of this innovative technology into commercial use, bringing revolutionary opportunities to traditional industries like agriculture and forestry, geographic mapping, disaster relief and express logistics. "We aim to make UAV not only accessible to everyone, but also create more practical value to change people's lives," said Hu.
EHANG plans to launch its next-generation product later this year, to bring disruptive user experience and application, leading a smart drone revolution.
The UAV industry continues to enjoy bright prospects for the future. According to the 2015 Civil UAV Market Report released by the research institute EVTank, the global sales volume of civil drones in 2014 is 378,000 units, accounting for 96% of the whole UAV market. The proportion of commercial and consumer drones is 33% and 67% respectively. It is estimated that the global sales volume of civil drones will increase by 50% in 2015, and by 2020 the market scale will reach$25.9 billion with 4.33 million units of drones being sold.
The lead investor of this round, GP Capital, has extensive investment experience in various industries including finance, healthcare, mobile Internet, smart hardware and consumer products, with more than 30 investment projects such as Guotai Junan Securities, China UnionPay, Ant Financial, Industrial Bank, Montnets, Sinobioway Medicine, V·GRASS, Huimin.cn and Genshuixue.com. GP Capital representative Haoxiang Hou said: "The innovation, wisdom and passion of the EHANG team is unparalleled. We truly believe that the smart control experience of their drones can be more widely applied across market sectors and that the company can make a revolutionary breakthrough in UAV technologies."
As the previous lead investor, GGV Capital's investment in EHANG was the biggest Series A investment in its 15 year history and the firm is confident in making further investment in this Series B round. Jenny Lee, Managing Partner of GGV Capital, said: "We are bullish about the prospects and growth of UAV development globally and are very pleased to see EHANG gain the support of more industry and financial partners as they continue to bring more exciting, innovative and industry leading products to consumers."
As a continuous investor of EHANG since the angel round, Xiaoping Xu, the Founder of ZhenFund, said: "Due to the solid and fast growth of EHANG, its valuation has increased 40-fold from when I and Nick Yang of Lebox Capital invested at the second angel round last year, and we are still happy to continue investing because of our great confidence in their innovative technology and products."
About GP Capital
GP Capital Co., Ltd. (hereafter referred to as "GP Capital") is currently managing Shanghai Financial Sector Investment Fund, which was approved by State Council and State Development & Reform Committee of China. The total capital under management is RMB 20 billion yuan within two rounds. The current capital under the first-round management is RMB 9 billion yuan, which is one of the largest private equity funds so far in RMB in China. The key fields of investment include finance, healthcare, mobile Internet, smart hardware, consumer products, etc. The management team of GP Capital is the first getting investment from the National Social Security Fund domestically. The GP Capital portfolio has more than 50 projects, including more than 20 A-share listed companies.
About GGV Capital
GGV Capital is a venture capital firm based in Silicon Valley and China that has been successfully partnering with leading technology entrepreneurs since 2000. The firm was founded with the unique idea to have one team investing in both China and the US - the two largest economies in the world. With $2.2 billion under management across 5 funds, the GGV portfolio includes Alibaba, AlienVault, Buddy Media, Didi Taxi, Domo, Douguo, DraftKings, FlightCar, Flipboard, GrabTaxi, Glu Mobile, HotelTonight, Houzz, Kingsoft WPS, Meilishuo, Misfit, Nimble Storage, Pactera, Pandora Media, Percolate, Quixey, Qunar, SoundCloud, Square, SuccessFactors, Tile, Tujia, UCWeb, Wish, Youku Tudou, YY, Zendesk, and Zepp Labs. For more information, visit www.ggvc.com and follow GGV Capital on Twitter: @GGVCapital and WeChat: GGVCapital.
About ZhenFund
ZhenFund is a leading angel fund founded by New Oriental (NYSE: EDU) co-founders Xu Xiaoping(Bob) and Wang Qiang (Victor). It was established in 2011 in collaboration with Sequoia Capital China, with the aim of promoting innovation among China's youth. ZhenFund is primarily a TMT-focused fund, with investments in the IOT, mobile Internet, gaming, enterprise software, O2O, e-commerce and education sectors. Their portfolio includes over 150 high-growth companies, including Shiji Jiayuan (Nasdaq: DATE), Lightinthebox (Nasdaq: LITB), Jumei (NYSE: JMEI), 17zuoye, Meilele, Zhaogang.com, Dayima, and 51talk.
About LeBox Capital
Beijing LeBox Century Equity Investment Center (limited partnership) is a leading angel fund aiming at startups with enormous potential and at the early age of development. Their representative portfolio includes Internet Film Group (IFG), EHANG Technology, METAS intelligent electronic building blocks, Fairair air purifier, Impression virtual reality helmet, etc.
About OFC
Shenzhen Oriental Fortune Capital Co., Ltd. ("OFC" for short) was established in 2006 with the registered capital of RMB 10 million yuan. OFC's main investment areas include information technology, healthcare, consumer products, new energy and new materials, etc. The capital under their management is more than RMB 10 billion yuan with more than 130 investment projects since its establishment.
About PreAngel
PreAngel is a 1 billion RMB fund focused on early stage mobile Internet startups. We kick start capable teams and promising ideas with 100K RMB ~ 5M RMB, advisory services, and unparalleled access to a tightly-knit network of mobile professionals and companies. To date, PreAngel has made 250+ investments globally.