LAS VEGAS, N.V. May 26, 2016 – The Governor's Office of Economic Development (GOED) and the Nevada Institute for Autonomous Systems (NIAS) have executed a historic teaming agreement with EHang, Inc., a technological innovation company specializing in Research & Development, manufacturing, and sales of intelligent aerial vehicles. The agreement will provide the foundation for collaboration between NIAS and EHang in the areas of flight testing, training, and development at Nevada's FAA UAS Test Site.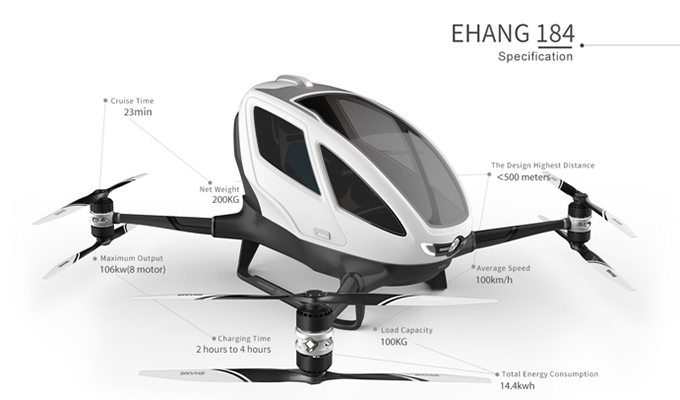 GOED and NIAS were first introduced to EHang at the 2016 Consumer Electronics Show where co-founder George Yan was showcasing his company's innovative technology, including the EHang 184, an autonomous aerial vehicle capable of carrying passengers.
"The State of Nevada, through NIAS, will help guide EHang through the FAA regulatory process with the ultimate goal of achieving safe flight," said Tom Wilczek, GOED's Aerospace and Defense Industry Specialist. "EHang's selection of Nevada to test its people-carrying drone marks a thrilling addition to the innovative companies testing throughout our state to advance the commercial drone industry. I personally look forward to the day when drone taxis are part of Nevada's transportation system."
"Partnering with GOED and NIAS is a big step for EHang 184 to move forward to government regulatory approval of the unprecedented innovation in US and globally, which will lay the foundation for its commercialization and building up the aerial transportation ecosystem in the future", said Huazhi Hu, Founder and CEO of EHang.
"Through this teaming agreement, NIAS will serve as the one-stop shop for EHang as they work through the Certificate of Airworthiness process to achieve safe and reliable flight," said Dr. Chris Walaach, Director of Operations for the Nevada Institute of Autonomous Systems.
EHang expects to begin testing at the Nevada FAA UAS Test Site in 2016, and will work closely with NIAS over the coming months to work through the UAS flight requirements.
The agreement was recently executed at Switch's Innevation Center in Las Vegas, Nevada. The Innevation Center is a 65,000-square-foot collaborative workspace and community event venue driving Nevada's new innevation economy, donated to the community by Switch Founder and CEO Rob Roy.
###
About the Governor's Office of Economic Development:
Created during the 2011 session of the Nevada Legislature, the Governor's Office of Economic Development (GOED) is the result of a collaborative effort between the Nevada Legislature and Governor Brian Sandoval to restructure economic development in the state. GOED's role is to promote a robust, diversified and prosperous economy in Nevada, to stimulate business expansion and retention, encourage entrepreneurial enterprise, attract new businesses and facilitate community development. More information on the Governor's Office of Economic Development can be viewed at www.diversifynevada.com.
About EHang
EHang is a global leading aerial technology company with headquarter in Guangzhou, branch offices in California, Duesseldorf, Beijing and Shanghai. EHang's mission is to help shape the way people connect with the sky. EHang makes the world's most easily-flown UAV, the GHOSTDRONE 2.0, which uses proprietary tilt control and the EHang Play app to make drone flight fun and accessible for the masses. EHang's GHOSTDRONE products have been sold globally, opening the skies to both new and seasoned fliers around the world. In January 2016, the company set its ambitions one step further and launched the EHang 184 Autonomous Aerial Vehicle (AAV), the first vehicle ever to offer autonomous human flight over short-to-medium distances. With a 300-person development and operation team led by seasoned executives from 21Vianet, Microsoft, Lenovo and Foxconn, EHang has established itself as a leader in the competitive global drone market and is on the fast track to mass-market success. More information about EHang can be found at www.ehang.com.
About NIAS
The Nevada Institute for Autonomous Systems (NIAS) is a non-profit organization founded and sponsored by the Nevada Governor's Office of Economic Development. NIAS advances the Nevada Autonomous Systems Industry through business teaming, partnerships, research and development, and educational awareness. NIAS is the Nevada FAA UAS designated test site. More information about NIAS can be found at www.nias-uas.com.