Guangzhou, China, April 21, 2021 -- EHang's flagship product, passenger-grade AAV EH216, made a stunning appearance at the Opening Ceremony of the Chinese Football Association Super League ("CSL"). A staff member rode a EH216 AAV to escort the Vulcan Cup, the Champion Trophy of CSL, successfully landed into Guangzhou Tianhe Stadium. She was greeted by a senior representative from the event sponsor waiting on the ground for the trophy.
The AAV then took off automatically to complete its predetermined return route which was predetermined. The whole flight was completed autonomously without a pilot. The opening ceremony was live-broadcasted on CCTV5 and is one of the most important events of the CSL. This is EH216 AAV's first flight in front of such a big audience consisting of approximate 30,000 spectators under a public stadium to witness EHang's robust technology, which is highly challenging. To a separate note, this EH216 AAV is currently owned and operated by Guangzhou Heli Chuangxing Intelligent Technology Co., Ltd., a local customer of EHang.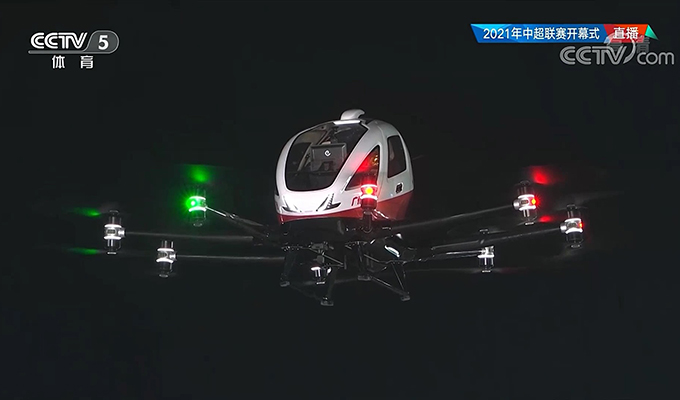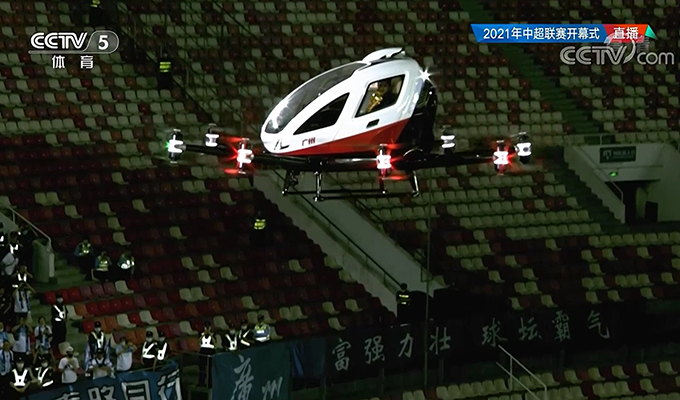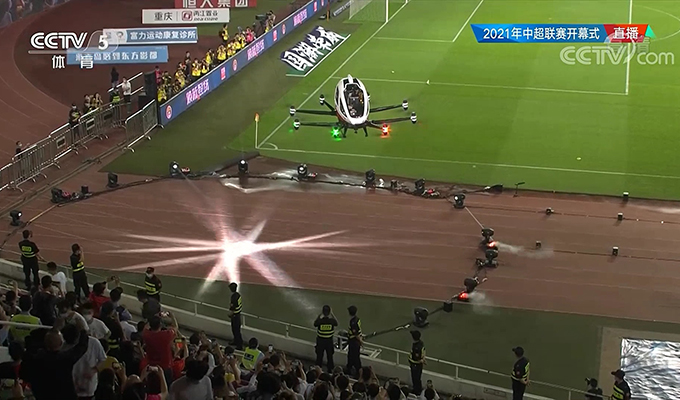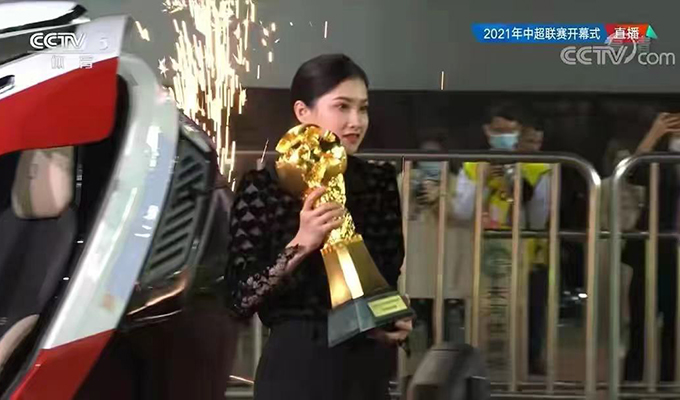 EH216 AAV Flying the Vulcan Cup into the Stadium Download the photo
As the biggest surprise of the opening ceremony, the new form of handover of the Vulcan Cup has attracted much attention, followed by massive exclamation and cheers from the crowd. To quote from a spectator: "It feels so cool to see the AAV landing steadily from the sky with the Vulcan Cup in it!"
As an innovative technology-driven air mobility service provider, EHang is committed to make convenient and fun short-to-medium-distance air transportation accessible to everyone. In August 2019, EHang and the Guangzhou Municipal Government entered into a strategic agreement. Since then, EH216 has completed multiple safe trial flights in Guangzhou Tianhe District, Nansha District, Huangpu District, etc. These trial flights spanned passenger transportation, air tourism, emergency rescue and other application scenarios, advancing the implementation of urban air mobility solutions. The successful debut of the EH216 at the opening ceremony of the CSL further demonstrates the expansion and improvement of passenger transportation, and brings technological vitality to Guangzhou.
***
About EHang
EHang (Nasdaq: EH) is the world's leading autonomous aerial vehicle (AAV) technology platform company. Our mission is to make safe, autonomous, and eco-friendly air mobility accessible to everyone. EHang provides customers in various industries with AAV products and commercial solutions: air mobility (including passenger transportation and logistics), smart city management, and aerial media solutions. As the forerunner of cutting-edge AAV technologies and commercial solutions in the global Urban Air Mobility (UAM) industry, EHang continues to explore the boundaries of the sky to make flying technologies benefit our life in smart cities. For more information, please visit www.ehang.com.
Safe Harbor Statement
This press release contains statements that may constitute "forward-looking" statements pursuant to the "safe harbor" provisions of the U.S. Private Securities Litigation Reform Act of 1995. These forward-looking statements can be identified by terminology such as "will," "expects," "anticipates," "aims," "future," "intends," "plans," "believes," "estimates," "likely to" and similar statements. Management has based these forward-looking statements on its current expectations, assumptions, estimates and projections. While they believe these expectations, assumptions, estimates and projections are reasonable, such forward-looking statements are only predictions and involve known and unknown risks and uncertainties, many of which are beyond management's control. These statements involve risks and uncertainties that may cause EHang's actual results, performance or achievements to differ materially from any future results, performance or achievements expressed or implied by these forward-looking statements.