Guangzhou, China, April 30, 2021 -- EHang Holdings Limited (Nasdaq: EH) ("EHang" or the "Company"), the world's leading autonomous aerial vehicle ("AAV") technology platform company, today announced the strategic partnership agreement with Aeroports de Catalunya, a public company of the Generalitat de Catalunya. As EHang's airport partner in Europe, both parties will collaborate on passenger transportation, aerial logistics, take-off and landing infrastructure, airspace management and regulatory certification, etc. The partnership will further promote safe, intelligent and eco-friendly autonomous aerial mobility solutions in Europe.
According to the agreement, Aeroports de Catalunya will provide a suitable aeronautical environment and infrastructure. Both parties will consider developing a test base and a show room at the Lleida-Alguaire Airport, conducting test studies related to autonomous flight technologies and airspace management and transforming Lleida-Alguaire Airport into an innovative platform for urban air mobility (UAM) in Europe.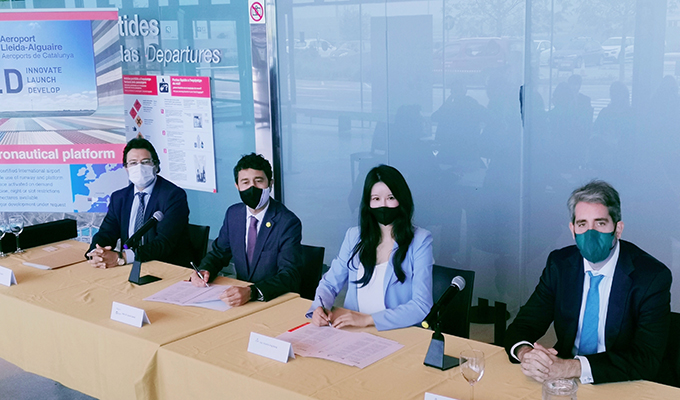 EHang and Aeroports de Catalunya partnership signing ceremony Download the photo
"The partnership with EHang will bring a lot of value to the airport and Catalunya. The two parties will further explore and advance the development of urban air mobility, and continue to move forward on the path of innovative and sustainable development with global partners to create a better life for Catalunya." said Mr. Damià Calvet, the Minister of Territory and Mobility.
Victoria Xiang, CEO of EHang Spain & Latin America, said that "The Lleida-Alguaire Airport is a good platform for innovation under the management of Generalitat de Catalunya. The partnership allows EHang to develop, test and demonstrate its autonomous aerial vehicles and supporting infrastructure in an airport environment, which will greatly promote UAM and create a more integrated and sustainable air space.
EHang participated in several projects promoted by SESAR JU. Through the partnership with Aeroports de Catalunya, EHang will explore the application of AAV under the airport environment and further advocate safe, autonomous and eco-friendly air mobility solutions in Europe, promoting the innovative development of UAM with global partners.
***
About EHang
EHang (Nasdaq: EH) is the world's leading autonomous aerial vehicle (AAV) technology platform company. Our mission is to make safe, autonomous, and eco-friendly air mobility accessible to everyone. EHang provides customers in various industries with AAV products and commercial solutions: air mobility (including passenger transportation and logistics), smart city management, and aerial media solutions. As the forerunner of cutting-edge AAV technologies and commercial solutions in the global Urban Air Mobility (UAM) industry, EHang continues to explore the boundaries of the sky to make flying technologies benefit our life in smart cities. For more information, please visit www.ehang.com.
About Aeroports de Catalunya
AEROPORTS DE CATALUNYA is a company of the Generalitat de Catalunya, assigned to the Departament de Territori i Sostenibilitat whose main task is to manage airports, aerodromes, and helipads of the Generalitat de Catalunya. In addition, its corporate purposes include the research and development in air transport and space.
Safe Harbor Statement
This press release contains statements that may constitute "forward-looking" statements pursuant to the "safe harbor" provisions of the U.S. Private Securities Litigation Reform Act of 1995. These forward-looking statements can be identified by terminology such as "will," "expects," "anticipates," "aims," "future," "intends," "plans," "believes," "estimates," "likely to" and similar statements. Management has based these forward-looking statements on its current expectations, assumptions, estimates and projections. While they believe these expectations, assumptions, estimates and projections are reasonable, such forward-looking statements are only predictions and involve known and unknown risks and uncertainties, many of which are beyond management's control. These statements involve risks and uncertainties that may cause EHang's actual results, performance or achievements to differ materially from any future results, performance or achievements expressed or implied by these forward-looking statements.