Guangzhou, China, March 28, 2023 - EHang Holdings Limited (Nasdaq: EH) ("EHang" or the "Company"), the world's leading Autonomous Aerial Vehicle ("AAV") technology platform company, announced that it has collaborated with Spain's Advanced Center for Aerospace Technologies ("CATEC") to successfully complete the BAUD project in Spain. Framed under the Invest in Spain program of ICEX Trade and Investment, and sponsored by the Spanish Ministry of Industry, Trade and Tourism, the BAUD project aims at enhancing the operational safety and efficiency of Unmanned Aerial Systems ("UAS") for aerial logistic missions, as well as enabling their integration in U-Space.
After one year of intense industrial research, EHang and CATEC achieved the project objectives through the development of an autonomous airborne beacon, which provides more precise and comprehensive UAS positioning by using Global Navigation Satellite Systems, EGNOS (European Geostationary Navigation Overlay Service) and Galileo, along with providing the UAS status, remote e-ID (electronic identification) and other tactical information with U-Space systems.
The flight test campaign of the BAUD project was conducted at CATEC's Air Traffic Laboratory for Advanced Unmanned Systems ("ATLAS") test flight center, using two EHang Falcon B (Logistics) autonomous aerial vehicles. The developed autonomous airborne beacon can not only be applied by EHang AAVs, but also by any UAS, and will enable the safe operation of UAS in European airspace, through their intelligent integration with U-Space systems.
Victoria Xiang, COO of EHang Europe and Latin America, highlighted, "We are delighted to announce the successful completion of the BAUD project, achieving all of its goals and objectives. EHang welcomes public-private partnership opportunities for research, development, and investment in the UAS field in Spain. This has encouraged EHang to execute several innovation projects, share EHang's world-leading technology and extensive international experience on Urban Air Mobility, and strengthen our wide technological collaboration network in Europe".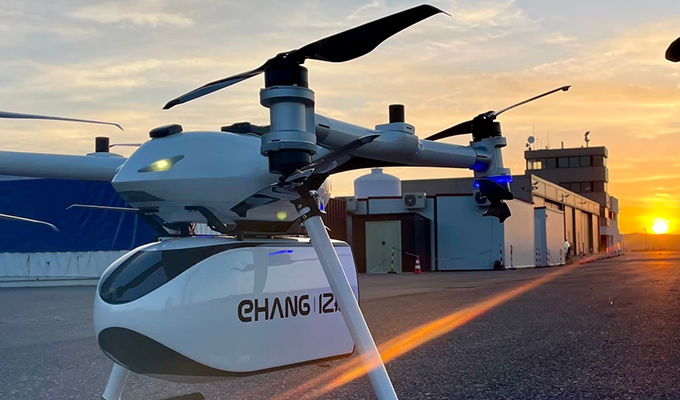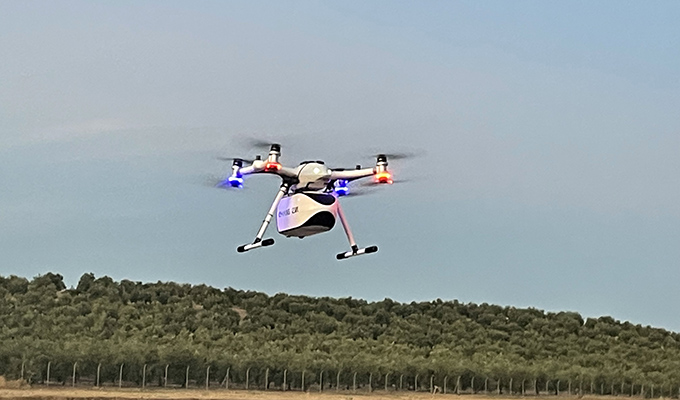 Flight tests of EHang's Falcon B (Logistics) AAV at the ATLAS center in Spain
About EHang
EHang (Nasdaq: EH) is the world's leading autonomous aerial vehicle ("AAV") technology platform company. Our mission is to make safe, autonomous, and eco-friendly air mobility accessible to everyone. EHang provides customers in various industries with AAV products and commercial solutions: air mobility (including passenger transportation and logistics), smart city management, and aerial media solutions. As the forerunner of cutting-edge AAV technologies and commercial solutions in the global Urban Air Mobility ("UAM") industry, EHang continues to explore the boundaries of the sky to make flying technologies benefit our life in smart cities. For more information, please visit www.ehang.com.
About CATEC
The Advanced Center for Aerospace Technologies ("CATEC"), is a technological center oriented to the aeronautical sector with more than eleven years of experience in the development of technologies for Unmanned Aerial Systems, or UAS, including new technologies that allow the integration of autonomous aerial vehicles in the airspace and high precision navigation systems. CATEC also has a strong presence in working groups related to the new European drone regulation.
About ICEX
ICEX Trade and Investment is a publicly owned business-oriented entity of the Ministry of Industry, Trade and Tourism's Secretary of State for Commerce, which works worldwide with the objective of promoting the internationalization of Spanish companies in order to improve their competitiveness and to add value to the Spanish economy as a whole, as well as boosting foreign investment in Spain. Its mission is to promote foreign direct investment ("FDI") in Spain and to support business owners and entrepreneurs that want to set up their companies in Spain. The BAUD project was executed under the Invest in Spain program of ICEX Trade and Investment, and received funding from the Spanish Ministry of Industry, Trade and Tourism.

Safe Harbor Statement
This press release contains statements that may constitute "forward-looking" statements pursuant to the "safe harbor" provisions of the U.S. Private Securities Litigation Reform Act of 1995. These forward-looking statements can be identified by terminology such as "will," "expects," "anticipates," "aims," "future," "intends," "plans," "believes," "estimates," "likely to" and similar statements. Statements that are not historical facts, including statements about management's beliefs and expectations, are forward-looking statements. Forward-looking statements involve inherent risks and uncertainties. A number of factors could cause actual results to differ materially from those contained in any forward-looking statement, including but not limited to those relating to EH216-S Type Certification, our expectations regarding demand for, and market acceptance of, our AAV products and solutions and the commercialization of UAM services, our relationships with strategic partners, and current litigation and potential litigation involving us. Management has based these forward-looking statements on its current expectations, assumptions, estimates and projections. While they believe these expectations, assumptions, estimates and projections are reasonable, such forward-looking statements are only predictions and involve known and unknown risks and uncertainties, many of which are beyond management's control. These statements involve risks and uncertainties that may cause EHang's actual results, performance or achievements to differ materially from any future results, performance or achievements expressed or implied by these forward-looking statements.