A 3D fleet of 1374 drones' formation light show danced over the City Wall of Xi'an on the evening of April 29, performed by EHang Egret, the world's leading drone-based aerial landscaping media technology company in China.
This unrivalled show of drones achieved the Guinness World Records TM title for the "Most Unmanned Aerial Vehicles (UAVs) airborne simultaneously", breaking Intel's Guinness World Records title of 1218 drones in 2017 in Pyeongchang Korea.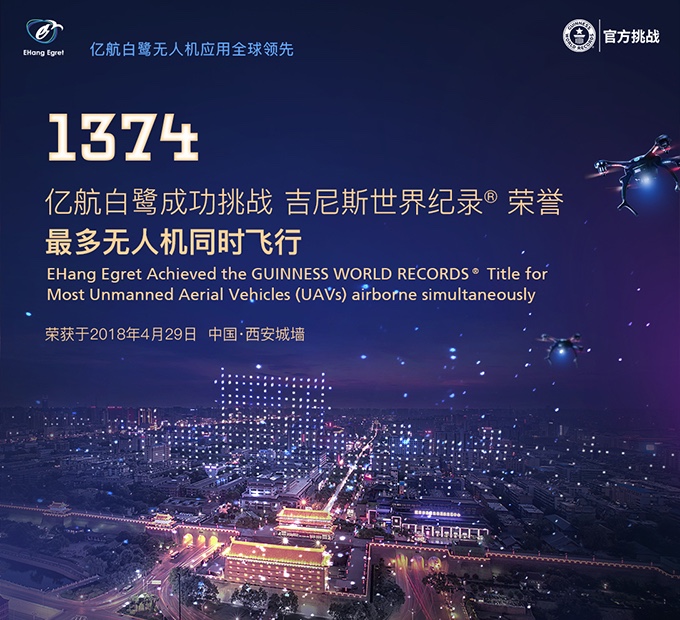 Watch the video: https://www.youtube.com/watch?v=4mHDDG3FCjs
This fleet of 1374 drones represents the length of the 13.74 km City Wall of Xi'an, the largest and best-preserved ancient city wall in China, as well as the 74 countries joining China's Belt and Road, where Xi'an was the starting point of China's historic Silk Road to western world.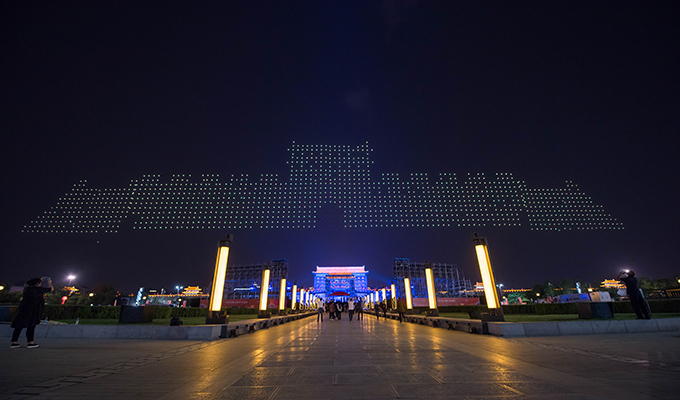 During the 13-minute drone light show, the 1374 drones, as high-tech pixels in the night sky, taking off from the narrow-long city wall, created a huge sky curtain as long as 1200 meters long, 100 meters wide and 260 meters high above the City Wall of Xi'an.
Their dynamic changes contribute to 16 delicate patterns and Chinese traditional icons like the Xi'an City Wall, Silk Road, Dayan Pagoda, May Day, Xi'an—the most typical of China, 1374, the 40th anniversary, the New Era, Running Xi'an, I❤ XI'AN, camels, the gold-decorated copper Buddha, auspicious clouds, UAV, high-speed train, and pomegranate flower - Xi'an's city flower.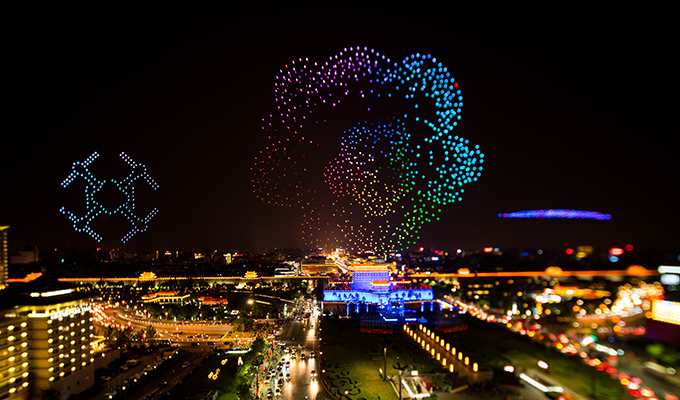 It implied that Xi'an, the capital city of 13 ancient dynasties in China history, beams with the charms of the "Capital of Hard Technology" in the new era today.
Indeed, as drones is one of the typical smart hardware technology, China has been playing a leading role in global civil drone market from both innovative technology and business applications.
EHang, based on the technology prowess of UAVs hardware and software advantage in fully-autonomous flight system, has become the world's leading drone company to realize autonomous UAVs formation flight and created a drone-based aerial landscaping media brand "EHang Egret" in 2016.

Superior to traditional manual control by drone pilots, EHang Egret's intelligent drone formation command cloud system enables independent planning, real-time monitoring, smart dispatching of the UAVs flight task and light effects.
Mr. Zheyuan Shi, the CEO of EHang Egret, said that the company will extend its business from Xi'an to various landmarks' airspace across the world. With the combination and vehicle of China's technology, art and culture, EHang Egret will spread the "global aerial landscaping media" and tell the Chinese story to the whole world.